"My eyes see, at home, abroad, wherever, the subjects that become my paintings.  But the techniques that are employed to bring them to life vary with my passion for unique materials, be they hand made papers, shiny acrylic inks, glossy photos taken on New York sidewalks or printed off the computer.  Each surface beckons me to approach it with materials designed to enhance its own unique qualities.  Each painting, whether it stands alone or is part of a series, must resonate with my desire to make a work of art that is competent, compelling and uniquely mine.  The joy I find in the making of art, the education I bring to it, and the intensity with which I work, result in the colorful, multilayered acrylic and collage paintings presented in the pages of this website:  please enjoy!"  – Bernice Koff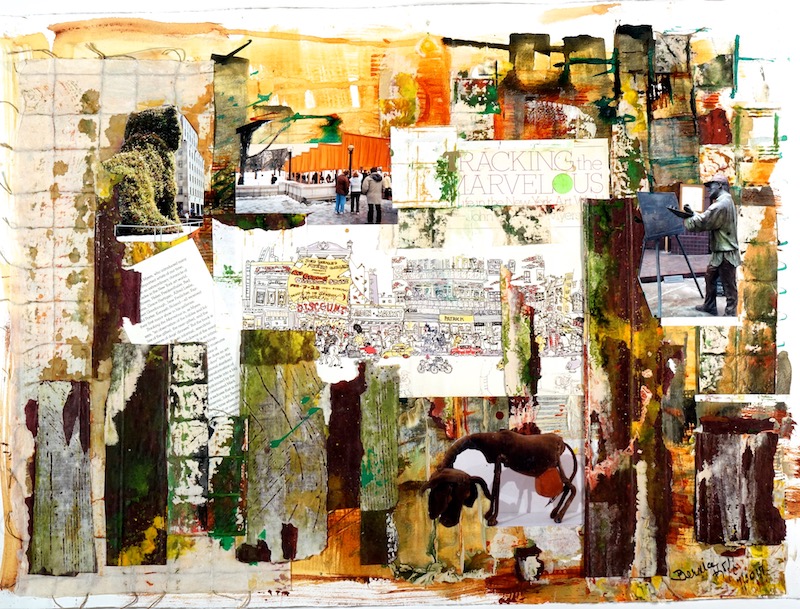 Book Jacket 12: Tracking the Marvelous 22 X 30 Mixed Media on paper
This painting from my new Book Jacket series was accepted into the Catherine Lorillard Wolfe Art Club exhibit in New York City. The exhibit, at the historic National Arts Club on Gramercy Park, is open until the end of January and my work received a major award in the mixed media category. Many of the images in the painting are photos taken of artwork in museums and outdoors around the City over the last 10 years. These photos, the original book cover about a gallerist's life in the New York art world, and the textured papers that I painted and collaged into the work to resemble the upright buildings in the City, took many months to complete.
Exhibitions & Collections
Bernice has her work in many different exhibitions and collections.
See the list!

»
Contact Info
You can contact Bernice with any questions you might have about her work.
Contact info

»
Blog
Bernice writes blog articles about her special interests or events.
Read the blog!

»
Copyright © Bernice Koff