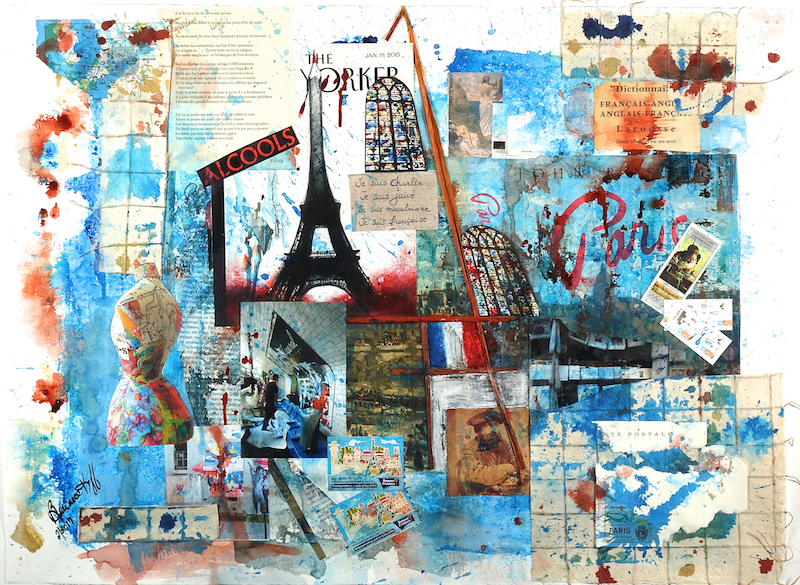 For the past two years I have been working on a body of paintings entitled  "Book Jacket Series."  Inspired by my love of the printed book (and concern for its demise), the paintings begin with paint applied loosely onto treated watercolor paper.  The paint is allowed to run and blend as it would be for an abstraction.  When the colors & textures begin to resonate with me, I go over to my collection of book covers, selected from books I have savored over the years on subjects as varied as Paris & the French language,  New York, the world of art and artists, garden florals and even cookbooks.  Choosing a cover that seems at one with the painted surface…it needs to not only work with the colors on the paper but with the mood established there…I cut a large area of the front cover and some text from the flap and glue these down at angles on the background paper.  I may use other parts of the covers in a companion painting, and if so, try to work them at the same time.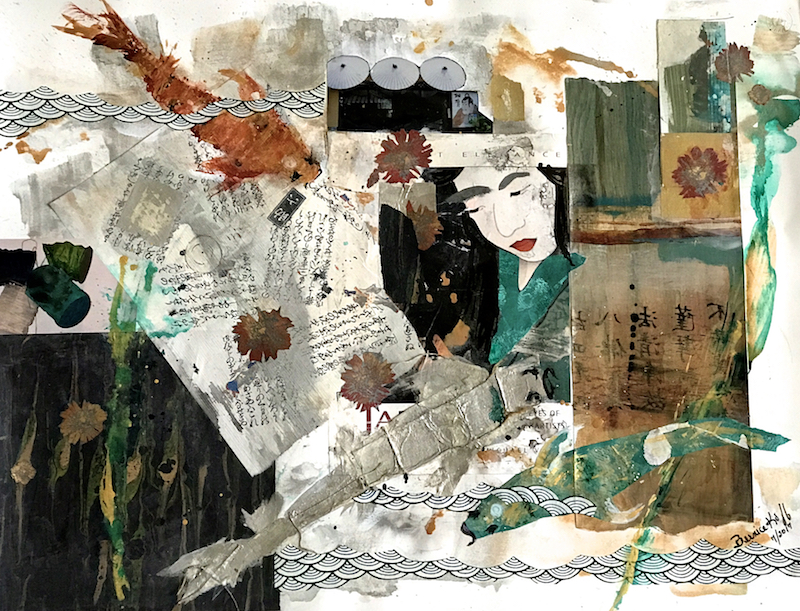 I then use paint to suppress some of the imagery from the printed cover;  this is done for both artistic and legal reasons as the work must become my own art and since book jackets, like the books themselves, are copyrighted.  My vast collections of "stuff" now comes out.  Some of it is painted paper, both done in my studio and purchased at art stores.  Much of it is paper that I have collected from traveling, such as metro tickets and theatre programs or museum paraphernalia; to the chagrin of my family, I rarely leave a shop or restaurant without some paper "treasure" in my hand that may find its way someday into an appropriate collage.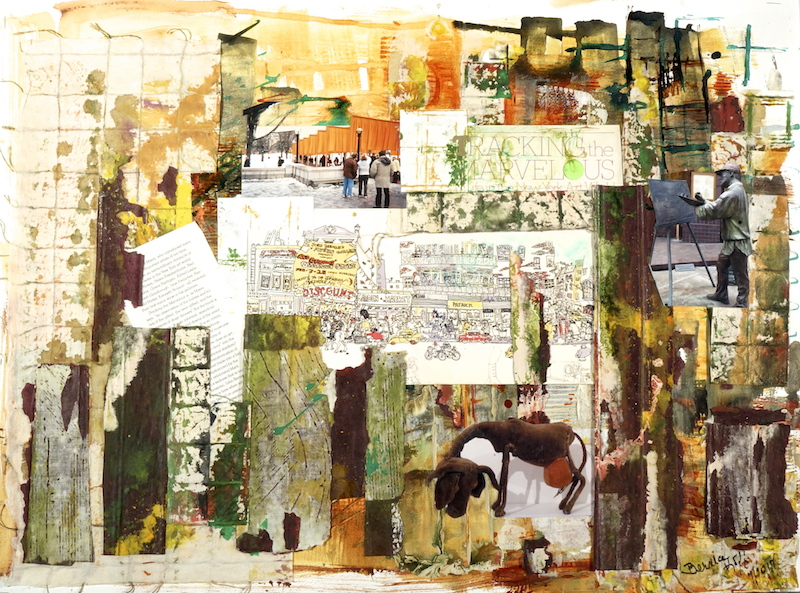 Sorting through these items, finding just the perfect few for the work in front of me, and putting away the good but not great ones, consumes a great deal of time and back and forth.  Other items, strings of raffia, squares of Asian papers, photos from my collection or computer printouts, often are taped down, moved around, and either glued down or rejected as the work progresses.  It is important to me as an artist to have my hands on a paintbrush as well as a glue jar when I do my collage work;  I began my art career as a watercolorist and still need to see the artist's "hand" in my own work or those of my students.  This back and forth between collage and paint gives richness, depth and layers of meaning to the paintings.  The book jacket cover was the inspiration and the jumping off point for these paintings, but my years of making art and love of the movement of paint on paper inform the final result.  
I hope as you look at my "Book Jacket" series of paintings on my website, in juried and local exhibits, or during the OCAG Open Studio Tour next November, you will have a greater appreciation for what doing these pieces entail and mean to me as an artist.
I have a large body of paintings under the heading "Photages."  These works are done with acrylic inks and fluid acrylic paints applied directly on the surfaces of digital photos.  The first series of small (5×7" & 8×10") paintings in this group began in early 2000 and were painted directly on the photos of my own earlier paintings.  What began as a recycling idea created enamel-like "jewels" that have both a fresh surface image and the intrigue of hidden images underneath.
The second and largest body of "Photages" are the "Library Walk, NYC" series.  Outside the New York Public Library, on 41st St. in Manhattan are a series of low-relief bronzes embedded in the sidewalk. Each bronze contains a quotation from a famous artist, writer or philosopher from ancient to modern times.  As a former New Yorker and college English major, these images had an enormous impact on me:  here was finally a way to marry my love of the painted image with the written word.
I photographed the quotations, had them printed on 16×20"  photo paper and then began a series of collages that both hide and reveal aspects of the text and bronze underneath.  Each completed painting is a new and original image that takes its direction from the words I chose to reveal and often the New York setting in which they are located.
The third group of Photages which grew out of the ideas in the previous ones is the Mosaic Series.  Passing my husband's Macintosh desktop, I saw his screen saver which was the "Mosaic" program that takes all of the images in I-photo and reduces them into a series of smaller and smaller squares (hence the title Mosaic).  Intrigued, I begged my husband to photograph these images as they moved from larger to smaller squares.  These were then printed on dense photo paper and worked into a new series of paintings, some with and some without collage elements.  Many of the paintings are encased in frames that backlight, allowing the squares of photo underneath to be revealed along with the image painted on top.